The second service pack for the v21.12 release brings many more improvements from edge to the stable release, with the notable changes detailed below.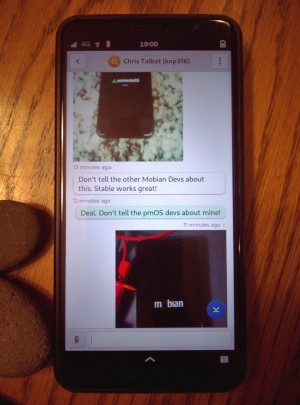 chatty 0.6.1 is upgraded to the latest version. This release is a significant upgrade over 0.4, bringing support for MMS messaging, for sending/receiving arbitrary files/media and group chat, and many many bug fixes and stability improvements.

Phosh 0.15 is upgraded to the latest version, bringing support for the much-desired ability to use passphrases (i.e. no longer limited to numbers) to the lockscreen. In addition, if you have a pin-protected SIM, you'll now be prompted to unlock it.

Sxmo 1.8.2 is upgraded to the latest release bringing many bug fixes, and a new configuration layout that requires user intervention on upgrade (see below for details). The default editor was also changed from vis to vim.
Sxmo 1.8.2 fixes many issues but like most Sxmo releases, it requires manual intervention. It is not recommended you upgrade unless you have time to fix potential issues.
After upgrading and rebooting, all custom hooks and configs in ~/.config/sxmo will be switched in favour of the default configs and hooks. Any custom configs and hooks that existed prior to the upgrade were not deleted - you must run sxmo_migrate.sh and this tool will migrate the old configs to the current version of Sxmo. You must carefully merge your old configs with the new recommended defaults. We recommend you do this migration over an ssh connection just in case the migration does not go well and sway/dwm does not launch. After migrating, reboot.
You can get more info about sxmo_migrate.sh from the Sxmo Stable Release User Guide.
For a technical explanation of why this manual intervention is required, please see co-maintainer Anjan Momi's blog post on the subject.
You can view the release notes for 1.8.0, and 1.8.1 on the Sxmo mailing list: 1.8.0, 1.8.1 Sxmo 1.8.2 is a minor release that changes the default editor from vis to vim. Vis had issues with sending texts and exiting with a bad error code. If you have changed $EDITOR to something else, you do not need to worry about this except vis is no longer recommended for use with Sxmo.
Find the most recent images at our download page. Existing users of the v21.12 release will receive this service pack automatically on their next system update. If you read this blog post right after it was published, it may take a bit until binary packages are available.
Thanks to everybody who made this possible, especially our amazing community members and upstream projects.