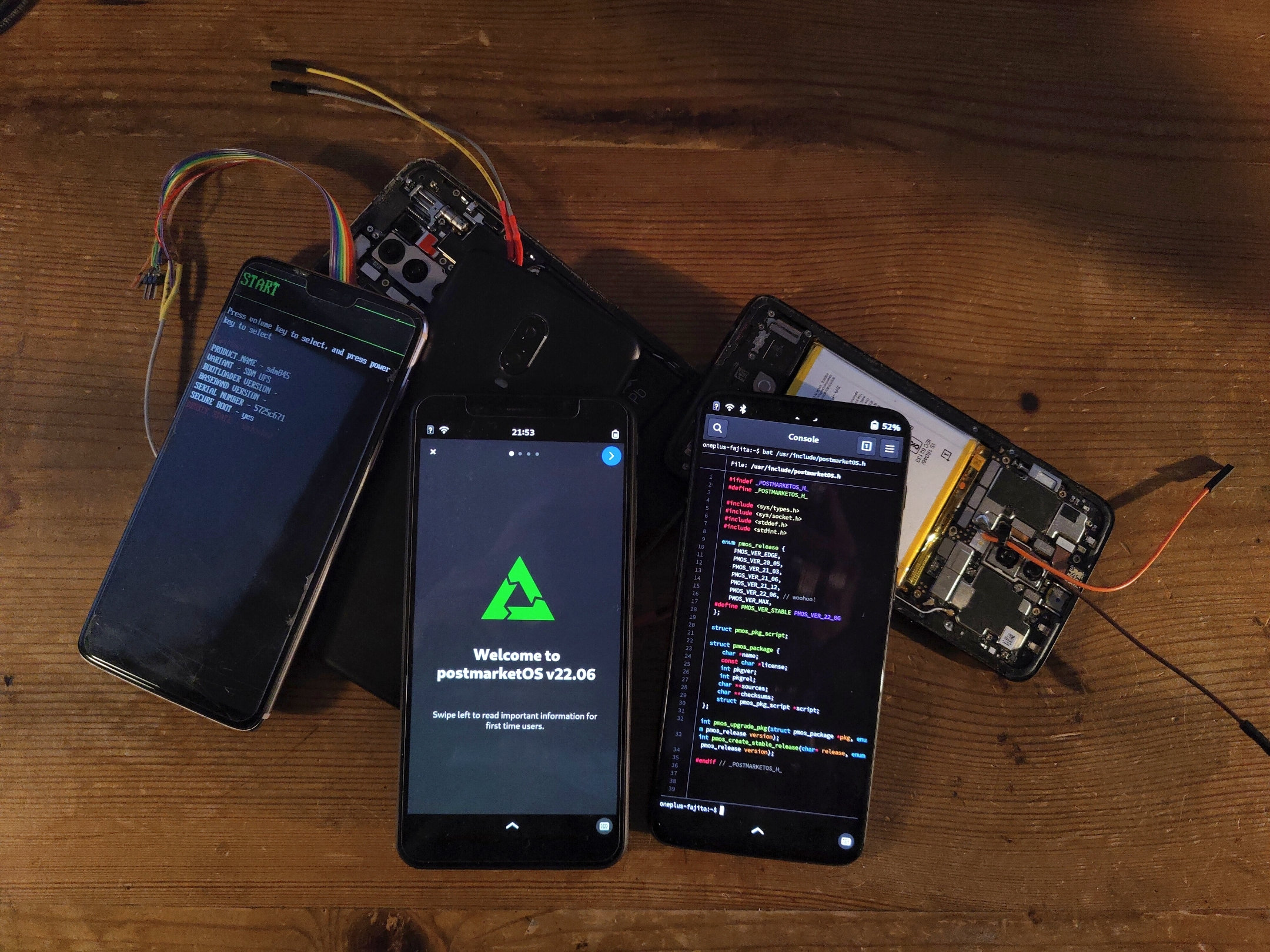 As we learned last winter, taking six weeks for following up on Alpine's November release isn't ideal. While some free software hackers prefer to hack on their favorite projects during the holidays, others take their well deserved break far away from computers. We got it done regardless, and planned to cut the release schedule in half to have it easier next time. The v22.06 release right here was the trial run for the new schedule... and we made it. Here it is, only three weeks after Alpine Linux 3.16 dropped and still properly tested: the postmarketOS v22.06 release!
v22.06, like previous releases, is geared mainly towards Linux enthusiasts; it may be a bit rough around the edges so expect some bugs. Help identifying and resolving issues is always greatly appreciated.
The amount of supported devices has been increased to 27 (from 25 since v21.12 SP4).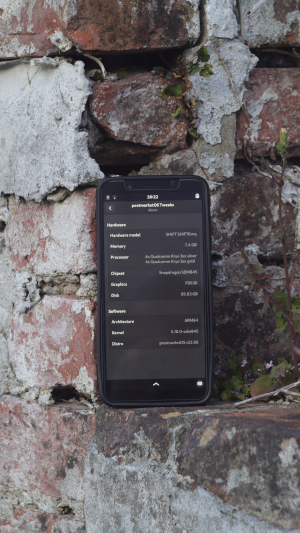 The SDM845 based SHIFT6mq sitting comfortably on a brick wall, running Phosh and postmarketOS tweaks. Not in the picture: the super exciting background story!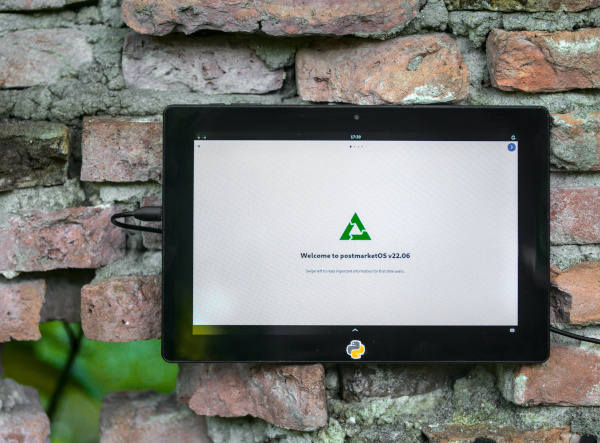 Martijn before fixing pma#1558: "main issue with pinetab audio is that I don't know where my pinetab is"
ASUS MeMo Pad 7
Arrow DragonBoard 410c
BQ Aquaris X5
Lenovo A6000
Lenovo A6010
Motorola Moto G4 Play
Nokia N900 (v21.12 SP1)
ODROID HC2
OnePlus 6
OnePlus 6T
PINE64 PineBook Pro
PINE64 PinePhone
PINE64 PineTab
PINE64 RockPro64
Purism Librem 5
SHIFT6mq new
Samsung Galaxy A3 (2015)
Samsung Galaxy A5 (2015)
Samsung Galaxy S III (GT-I9300 and SHW-M440S) new
Samsung Galaxy S4 Mini Value Edition
Samsung Galaxy Tab 2 7.0" (v21.12 SP4)
Samsung Galaxy Tab A 8.0
Samsung Galaxy Tab A 9.7
Wileyfox Swift
Xiaomi Mi Note 2
Xiaomi Pocophone F1
Xiaomi Redmi 2
As with all releases, you won't find a description of each and every commit that was done in postmarketOS edge and Alpine edge before the new release was cut. That's what git log is for. But here are the highlights.
First of all, we are happy to announce that one can now upgrade from one release to the next one. We made it work for Sxmo, Phosh and Plasma Mobile. A script that runs every night ensures that this doesn't break for v21.12 -> v22.06 (and v22.06 -> edge to prepare for the next release). While we don't officially support it, the script even allows switching between all possible versions. Say from postmarketOS edge to v22.06 if you are tired of living on the edge. Thanks to Alpine's package manager apk it works fast and reliable. For now this is CLI based, in the future it should be possible to hook this up to graphical apps like GNOME Software and KDE Discover. More on upgrading in the wiki.
# apk add postmarketos-release-upgrade
# postmarketos-release-upgrade
>>> You are about to upgrade from v21.12 to v22.06
>>> 
>>> This will be done in the following steps:
>>> 1) upgrade packages of v21.12
>>> 2) dry run: upgrade packages to v22.06
>>> 3) upgrade packages to v22.06
>>> 4) prompt to reboot
>>> 
>>> A log and backup of your /etc/apk/repositories will be in:
>>> /var/lib/postmarketos-release-upgrade/2022-06-12-164229
>>> 
>>> It is strongly recommended to do this via SSH and in tmux/screen.
>>> More information: https://postmarketos.org/upgrade
>>> 
>>> This upgrade should work fine, but in the worst case your device
>>> may not boot anymore. Make backups of important data first!
>>> 
>>> Proceed with upgrade to v22.06? [y/N] 

Sxmo 1.9.0 supports device profiles, has improved bluetooth support and uses pipewire by default. The incall menu and audio management were improved, as well as superd being used to supervise user services.

Phosh 0.17.0 brings a slight style refresh and other minor improvements over the version 0.15.0 we had in stable since v21.12 SP2. The huge update that is currently in the works will be backported via service pack once it's ready. GNOME is at 42, and a lot of GTK applications were ported to GTK4 and libadwaita. To fill the lack of a calendar application installed by default, we ship karlender now.

Plasma Mobile Gear 22.04 has a lot of great improvements as well, head over to their beautiful new homepage to get an idea of what happened since Plasma Mobile Gear 21.12 which we shipped with postmarketOS v21.12.
PinePhone users who know what they are doing can now upgrade their modem to Biktor's alternative firmware on v22.06. More in the wiki.
When connecting your phone via USB to your computer, you are automatically getting an IP from the phone's DHCP server and can then for example connect to your phone via SSH. This is a feature since day one in postmarketOS, but now the DHCP server has been replaced with a minimalistic one written specifically for this use case, unudhcpd. It responds to the DHCP request as fast and reliably as possible and doesn't get confused if you plug the phone into two different PCs without reboot.
We reconsidered our approach to service packs. With v21.12 we made one service pack each month, as planned in advance. Oftentimes we had pretty important new features in there, like MMS in SP1 and support for the PPKB in SP2. But in the last one, SP5 at some point we considered if we should even make the service pack at all since there was not much to put in. But what do we do instead, make a blog post that we don't make a service pack for the people who expect one? And do we stop making service packs on schedule altogether?
So here is a little announcement: moving forward we will still make service packs on schedule. But we may skip one if it is not worth the effort, then we would just have a month without a service pack published and do something else in that time (probably build something really cool in edge that we can't backport yet). So don't panic if there might be a month where we skip publishing a service pack.
This concludes another release blog post. It's actually the fifth release, a coincidence since now we make two per year, but the first stable release was v20.05. And recently it has been the five years birthday of postmarketOS. Once again we cannot stress enough how much of a team effort this has been. We thank every single person who contributes to postmarketOS, to the upstream projects like Alpine, the Linux kernel, Sxmo, Phosh, Plasma Mobile and so many more. It's hard to keep track of the amazing things everybody is doing to make this possible, but it's most definitively appreciated. Shout out to our friends from other Linux Mobile distributions. Together we make the dream of being truly in control of our smartphones a reality!